Road Construction
S.W. 10th between S.W. Gage and S.W. Fairlawn switched phases Friday, June 30, which allows for through traffic. The remainder of the project will be completed under traffic. The two-construction-season project is scheduled to be completed November 10. Work on the south side of the roadway between Civitan Lane and Gage Blvd. has begun. Access will be maintained into the Fleming Place Shopping Center from 10th Street. The budgeted cost for the entire project is $5.2 million. Funding sources include the Federal Fund Exchange (FFE), Water Utility Operating Funds, and Storm Water Utility Funds.
Now that 10th Street is open to through traffic, the SW 6th – Gage to Fairlawn project will start on Wednesday, July 5. Work will begin between Gage and the Chalet Apartments. Travel in that area will be for local residents only. Through traffic will not be allowed from Gage to Fairlawn. Access to Gage Park will be from 10th, SW Westchester, and the northwest corner of the park from 6th. Work this year will be from Gage to Yorkshire or Westchester. The remainder of the work to the west will be completed in 2018. The new roadway will include curb and gutter, sidewalks, street lighting, and a drainage system. It will also include a 10-foot wide multi-use path on the west side with a segment through Gage Park, and a five foot sidewalk on the north side. The project is funded by an extension of the Countywide Half Cent sales tax that took effect January 1, 2017.
Docent Program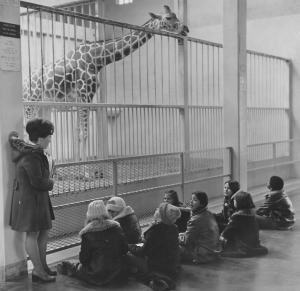 Do you love animals and the natural world? Do you want to help instill that curiosity and passion in our zoo guests? Apply to be a zoo docent today!
Zoo Docents are volunteer educators and guides who provide interpretation and exciting, hands-on experiences around your Topeka Zoo. As such, this group of volunteers receives a more in depth and specialized training than our other volunteers. At the end of initial training, docents are uniquely experienced in the various parts of the zoo and become part of our effort to change the world.
The duties our docents perform are as varied as those performing them. They operate Discovery Stations around the zoo, talk with guests about animals that live at the zoo, handle education animals to provide up-close experiences, guide our guests through the zoo, and more.
If you love animals, love learning, if you enjoy talking to people, and if you're looking for a unique and rewarding volunteer experience, you're in the right place!
Learn more or sign up today by clicking here or call Dennis Dinwiddie at 785-368-9134
The next Topeka Zoo Docent Training Academy occurs during the week of Aug 14-18, 2017.